How to take a blood sample for HIV and syphilis testing. You will find everything you need in the kit provided.
How to use your self-test kit
Step 1
Wash your hands with warm water for 1 minute (it helps if your hands are warm). Make sure they are dried properly.
Step 2
Remove the blood tube from the protective case. Take the yellow lid off the tube. Close the protective case and push the tube into the hole in the corner of the case (so it stands up).
Step 3
Clean the tip of your finger with the alcohol wipe and allow to dry (you may get best results starting with your middle or index finger).
Step 4
Twist and pull the purple tip off the lancet – then discard it.
Step 5
Place the tip of the lancet firmly against the tip of your finger and push down the button on the top. This will prick the finger.
Step 6
Stand over the blood tube, keep your arm straight and firmly massage down your finger to allow the blood to flow and collect in the bottle.
Step 7
Continue until the bottle is filled up to the top '600 line'.  If you do not collect enough blood, repeat using another lancet on a different finger.
Step 8
Apply a plaster to your finger.
Step 9
Push the cap firmly onto the bottle and invert the tube 5 times to mix.
Step 10
Attach the barcoded sticker (labelled blood) onto the bottle.
Step 11
Place your blood tube back into the protective case.
Step 12
Place all your samples into the clear '95KPA' bag and seal tightly.
Place sample bag back into the box with your completed 'patient return form'. Do not forget to fill out the date you took your specimen in BLACK ink on the 'patient return form'.
Put the box back into the pre-paid returns envelope and post straight away.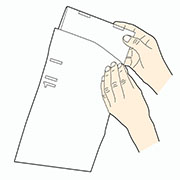 Getting your results
Please allow 7 working days from the date we receive your sample(s) for your test results to be sent back.
Results are usually sent by text message. If this is not appropriate, please contact us.
Disposal of waste items
Any waste items can be placed into general household waste – do not flush down the toilet.
Contact details
If you have questions about using the kit, or if you have not had your results within 7 working days, please call us on 01865 231 231.