How to take a urine sample for chlamydia and gonorrhoea testing. You will find everything you need in the kit supplied.
How to use your self-test kit
Step 1
Wash your hands
Step 2
Pop-up the urine collection pouch so it sits upright.
Step 3
Remove the lid from urine sample tube and have pipette ready.
Step 4
Pass the first bit of your urine stream into the pouch, any excess urine can go into the toilet.
Step 5
Use the pipette to collect some urine from the pouch and squeeze it into tube until it fills up to between the black lines.
Step 6
Screw the lid back on tightly.
Step 7
From the 'patient return form', find the barcoded sticker (labelled urine) and attach lengthways to sample tube.
Step 8
Place all your samples into the clear '95KPA' bag and seal tightly.
Place sample bag back into the box with your completed 'patient return form'. Do not forget to fill out the date you took you specimen in BLACK ink on the 'patient return form'.
Put the box back into the pre-paid returns envelope and post straight away.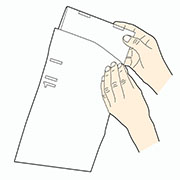 Disposal of waste items
Any waste items can be placed into general household waste – do not flush down the toilet.
Getting your results
Please allow 7 working days from the date we receive your sample(s) for your results to be sent back.
Results are usually sent by text message. If this is not appropriate, please contact us.
Contact details
If you have questions about using the kit, or if you have not had your results within 7 working days, please call us on 01865 231 231.